Back to School Flowers
CHECK OUT OUR "GRADUATION FLOWERS" PAGE!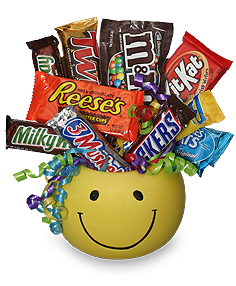 CANDY BOUQUET
Gift Basket
HOW COULD YOU GO WRONG WITH A BOUQUET OVERFLOWING WITH DELICIOUS SWEET TREATS! A great gift for any age... It can be perfectly paired with a plush stuffed animal or balloons. (Please remember that each selection is custom made and substitutions may be necessary. Your order will be produced as closely as possible to the picture.)
$35.00, $45.00, $55.00
Shown at $45.00
CANDY BOUQUET
GIFT BASKET
Yellow Smiley Face Bowl Or Mug, &nbsp Assorted Candy Bars, &nbsp(Shown: Reeses, Snickers, Milky Way, Kitkat, Twix, Butterfinger, M &amp Ms, Three Musketeers).
HOW COULD YOU GO WRONG WITH A BOUQUET OVERFLOWING WITH DELICIOUS SWEET TREATS! A great gift for any age... It can be perfectly paired with a plush stuffed animal or balloons. (Please remember that each selection is custom made and substitutions may be necessary. Your order will be produced as closely as possible to the picture.)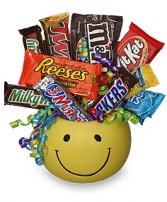 $35.00
$45.00
$55.00
Shown at $45.00
Shown at $45.00

CANDY BOUQUET

GIFT BASKET

Yellow Smiley Face Bowl Or Mug, &nbsp Assorted Candy Bars, &nbsp(Shown: Reeses, Snickers, Milky Way, Kitkat, Twix, Butterfinger, M &amp Ms, Three Musketeers).

HOW COULD YOU GO WRONG WITH A BOUQUET OVERFLOWING WITH DELICIOUS SWEET TREATS! A great gift for any age... It can be perfectly paired with a plush stuffed animal or balloons. (Please remember that each selection is custom made and substitutions may be necessary. Your order will be produced as closely as possible to the picture.)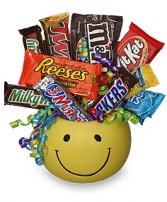 $35.00
$45.00
$55.00
Shown at $45.00